After Hungary closed its border to refugees, there have been reports that refugees are starting to seek a new route to safety through Croatia.
After escaping cluster munitions, barrel bombs, shelling, suicide bombings and long term conflict, minefields left over from the 1990s threaten the refugees. 
Before we talk more about this issue, some landmine safety notes for anyone travelling through Croatia (Google translated into Arabic).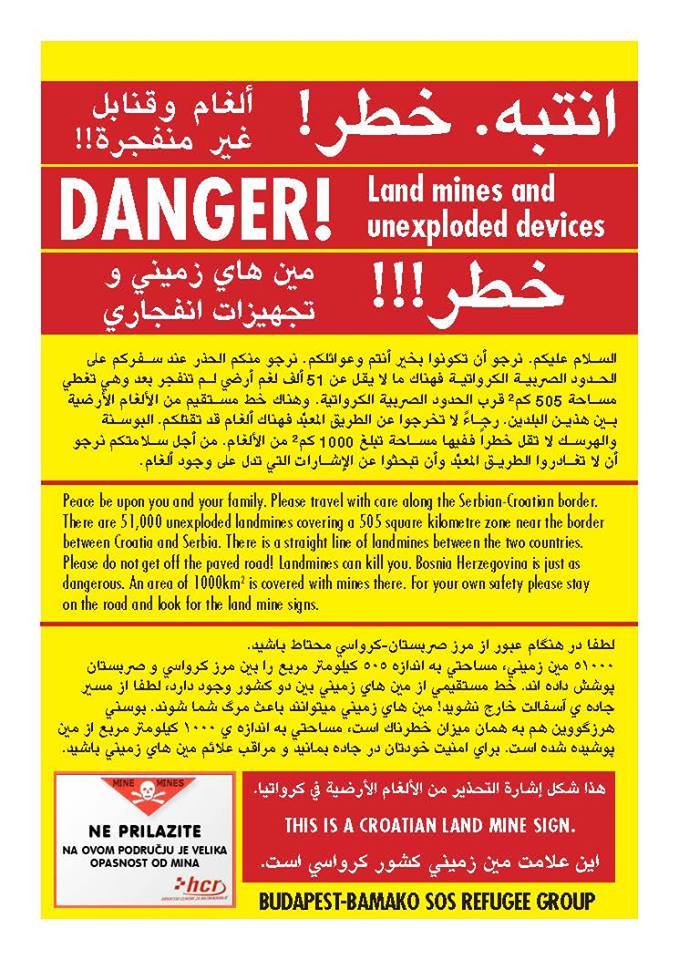 - Stay on roads (البقاء على الطرق)
- The UN has a mine risk education app (وللامم المتحدة التطبيق للتوعية بمخاطر الألغام)
- Pay attention to warning signs (إيلاء الاهتمام لعلامات التحذير)
- Visit the Croatian Mine Action Centre map website to see where minefields could be located (زيارة الموقع مركز للأعمال المتعلقة بالألغام الكرواتي لنرى أين يمكن أن تقع حقول الألغام): https://misportal.hcr.hr/HCRweb/faces/simple/Map.jspx.
- Learn more about the landmine situation in Croatia (تعلم المزيد عن حالة الألغام الأرضية في كرواتيا): http://www.hcr.hr/en/minSituac.asp and the Landmine Monitor.
- The Croatian Mine Action Centre appeals to all citizens and travellers (مركز مكافحة الألغام الكرواتية تناشد جميع المواطنين والمسافرين):
DO NOT ENTER MINE SUSPECTED AREAS
ADHERE TO MINE WARNING SIGNS
DO NOT REMOVE MINE WARNING SIGNS – BE RESPONSIBLE TOWARDS OTHER PEOPLE
DO NOT TOUCH UNKNOWN OBJECTS AND EXPLOSIVE REMNANTS OF WAR
MARK THE LOCATION OF MINE AND UXO DETECTION AND INFORM THE POLICE; CALL 192
INFORM THE URGENT ASSISTANCE SYSTEM AT 112
AVOID RISKY BEHAVIOUR – CALL FOR HELP
LEAVE DEMINING TO EXPERTS!
لا تدخل لغم أرضي المناطق المشتبه
تلتزم شركتى علامات التحذير
لا تزيل الألغام الأرضية علامات التحذير - يكون مسؤولا تجاه الآخرين
لا تمس أجسام مجهولة والمتفجرات من مخلفات الحرب
تشير إلى موقع الألغام الأرضية والذخائر غير المنفجرة الكشف وإبلاغ الشرطة. استدعاء 192
إعلام النظام إلى مساعدة عاجلة في 112
تجنب السلوك المحفوف بالمخاطر - طلب المساعدة
اترك إزالة الألغام للخبراء!)
Croatia is not the only place where landmines threaten refugees as they attempt to find safety. To make things easier, we will focus on the impact of landmines, cluster munitions and other explosive remnants of war (ERW) on Syrian refugees but the Landmine Monitor has a factsheet on landmines/ERW, refugees and displacement that covers the issue globally.
The border between Turkey and Syria has large minefields which have caused numerous casualties among those fleeing Syria. There are reports of displaced persons living in the minefield between Turkey and Syria. Refugees in Iraq and Lebanon face threats from landmine and ERW as well. Recently, we have heard reports of Syrian refugees being killed and  injured by cluster munitions in Lebanon. 
While solving some of the conflicts that are driving the current refugee crisis may be slow and incredibly difficult, we can make the road to safety much more secure. A priority must be to fund mine clearance along borders and near refugee camps and settlements. Today Croatia started moving mine clearance teams to the borders to help prevent casualties. Funding this sort of emergency clearance operations is something Canada should be doing - it is an effective way of saving lives and helping live up to our obligations under the Ottawa Treaty banning landmines. No one should risk death or disability as they seek safety. In addition, emergency risk education is ongoing among refugee communities but it could be scaled up dramatically with increased funding. 
There is no debate that clearing minefields can save the lives of refugees now and into the future. It must be a priority. 
 Map from the Croatian Mine Action Centre of mine fields near the Serbian border.